What we do Numerous different activities implemented by the RC play an important role in the society and are carried out according to different social circumstances. During armed conflicts and natural disasters, Red Cross plays a crucial role in crisis management. It coordinates the crisis management activities, such as collection and distribution of humanitarian assistance, providing temporary housing and drinking water for the people, registering and tracing missing persons, restoring family links, visiting and registering the prisoners of war, and protecting human dignity. In contrast to the stated wartime activities, the Red Cross focuses on other fields during peacetime.
More specifically, the City Red Cross of Banja Luka engages in the following activities: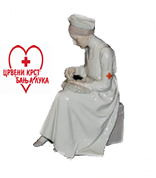 ---
Social Humanitarian Field
-Homecare services program
offers assistance to those in need and is implemented by the Red Cross in association with the Social Services Center. The program is carried out by the Red Cross trained caregivers who provide assistance to the elderly, people with reduced physical abilities and the disabled. Considering the fact that this particular program is invaluable to those in need and that we are contacted on a daily basis by potential new beneficiaries, the City Red Cross of Banja Luka is constantly working towards finding new ways of providing training for more caregivers and making this program accessible to more beneficiaries, and also to provide other citizens with this service at a reasonable price. Soup Kitchen Program is one of the best developed and most useful programs implemented by the Red Cross in the social humanitarian field. This program provides a large number of citizens with the one meal they have each day which helps them survive. For some time now, the Soup Kitchen has been preparing 124 800 meals per year for social welfare beneficiaries, and a certain number of meals for low income pensioners sponsored by the City Council. Considering the fact that we are contacted every day by potential new beneficiaries, who sometimes end up on a waiting list, it is evident that this program needs to be expanded and the entire community needs to take an active part in resolving these issues by providing sufficient funding for its successful implementation. Humanitarian activities are an effective means of providing help to the most vulnerable members of our society. In the attempt to help those most in need, these activities are implemented by our organization throughout the year with the assistance of the local organizations. In commemoration of the International Day for the Eradication of Poverty, we have initiated additional fund-raising activities for the provision of humanitarian assistance. We have set "humanitarian piggy banks" in Mercator mall (Borik and Starcevica), so that our fellow citizens can directly participate in these activities.
The funds raised so far are far from sufficient, but we hope that things will change for the better in the future and that we will be able to raise awareness about these issues and get our fellow citizens and local institutions to work together towards resolving the problems of the most vulnerable members of our community. Many programs and activities that could be carried out by the Red Cross are not being implemented at the moment due to insufficient funding. Some of those include delivering food from the Soup Kitchen to the remotest parts of the city, free blood sugar and blood pressure measuring for the vulnerable, working with vulnerable children and providing them with the opportunity to engage in activities and interact with their peers. Health field – Voluntary blood donation Voluntary blood donation is one of the most important programs implemented by the Red Cross and also one of its traditional activities. Donating blood is voluntary, anonymous and free of charge. This program` s primary goal is to promote voluntary blood donation and encourage more people to participate in this project. Blood is necessary for the treatment of the sick and injured and the need for blood donation continues to increase. With regard to this, the City Red Cross of Banja Luka initiates numerous educational and motivational lectures and presentations to promote the importance of the voluntary blood donation. In addition to that, our organization makes a contribution to this cause by organizing up to 28 blood drives per year, working in cooperation with the RS Blood Transfusion Service.
Participants in these blood drives are the secondary school and university students, members of the CRC BL Associate Teams and other voluntary blood donors. We invite you to become one of the voluntary blood donors. Apart from wanting to save lives, you need to be in good health and aged between 18 and 65. For additional information or assistance, please contact us. – Health education and awareness campaign Is implemented by the Red Cross through continuous, planned activities and directly serves the public interest. The implementation of this program includes helping spread the basic first aid knowledge, promoting voluntary blood donation, fight against tuberculosis, drug addiction prevention, reproductive health, fight against AIDS and health protection in general, and is carried out through cooperation with associate networks, volunteers, medical and educational institutions and other active participants in this field. Apart from this, we occasionally organize expert, public lectures, distribution of promotional and educational materials and we also cooperate closely with specific Ministries, institutions, organizations and the RC Mobile Team. – First Aid program is one of the most important RC programs, because being able to administer first aid is a very important skill which is an essential part of a person`s general knowledge and health awareness. Throughout the year, we organize a number of pertinent lectures and provide educational and promotional materials in order to raise awareness in our community about the importance of First Aid. Providing First Aid training courses and exams, as one of the legal and traditional RC activities is very significant as it helps us ensure additional funding necessary for the CRC BL to work successfully.
The basic activities in this field include the implementation of the First Aid program in accordance with the Codes set up by Republika Srpska Red Cross and BH Red Cross Red Crescent Society, training first aid instructors and teaching realistic display of injuries, conditions and diseases in accordance with the international standards, setting up numerous first aid teams in elementary and secondary schools and preparing them for school, city, regional and state competitions. Tracing Service is based upon and works in accordance with the Geneva Conventions and their Additional Protocols and Republika Srpska and Bosnia-Herzegovina laws, namely the BiH National Red Cross Ordinance and Red Cross Society of BH Code of Conduct. The CRC BL Tracing Service has operated successfully both during the war and the immediate post-war period. It has continued to conduct its activities in more recent years as well, by providing various services for citizens, such as collecting and registering the missing persons data, providing information about persons reported missing in armed conflicts and victims of natural and other disasters, exchanging messages between family members who have been separated during emergency incidents, distributing notification letters about missing persons to their family members, notifying citizens about the transfer of jurisdiction to the Missing Persons Institute of Bosnia and Herzegovina, helping restore family links, providing all necessary assistance to families during the process of identification, such as transportation and psychosocial support, attending the meetings of the Tracing Service Permanent Team for Training and Development with the Red Cross Society of Bosnia-Herzegovina, in which the CRC BL has its representative, delivering notification letters about missing persons resolved cases, and other tracing services within its jurisdiction, laid down in the international treaties. – Red Cross Youth It is important to stress that anyone can become a RC member, regardless of their age. Adults show their support for humanitarian projects in local communities, firms and institutions, whereas young people do it in schools and universities and outside these institutions as well.
The CRC BL Youth is organized into Junior sections (for elementary school children) and Youth sections (secondary school and university students), and all their activities are coordinated by our activists – schoolteachers. Outside schools and universities, young people are organized into Youth Clubs. The RC projects for school and university students are organized in a similar way to those for adults. There are various kinds of interesting activities from which anyone can choose the ones that suit them best. In addition to our projects implemented in secondary schools, many RC activities are organized in partnership with the Faculty of Medicine in Banja Luka. Also, the CRC BL started a Youth Club several years ago, whose members are secondary school and university students, as well as workers up to 27 years of age. Apart from the activities done by secondary school and university students, the Youth Club also takes part in RC competitions and exchange programs, dissemination of values and principles of the Red Cross Movement and in youth training courses for elementary school children and secondary school students (first aid training, injury simulation training, lectures on health-related issues (e.g. reproductive health) and other courses). – Publishing and advertising Publishing and advertising program aims to promote different activities in order to motivate potential new members to cooperate and help out, and to keep the existing members. The City Red Cross of Banja Luka also promotes continuous cooperation with and provides information to various local and international institutions, state and public agencies and organizations, linked to the RC and interested in its programs and problems.
Promotional material has always had wide application within our organization and has proved to be a useful instrument for promoting our work. So far, we have printed different promotional materials, such as leaflets, posters, folders, notebooks, pens, calendars, and we have also published a Monograph on the City Red Cross of Banja Luka and a brochure – Introduction to the City Red Cross of BL, both of which you can find on our site. Apart from carrying out our activities, cooperating with the media is crucial, because informing the general public is very significant for the work of our organization. In addition to sharing information about our work through print media, we plan to include electronic media in our advertising campaign as well. – Dissemination of the International Humanitarian Law and the principles and ideals of the Red Cross Movement is very significant during both peacetime and wartime.. The primary goal in this field is to spread knowledge on Basic Red Cross Principles and other humanitarian values promoted by our organization. Our programs and activities aim to attract new members and present all the ways in which citizens can participate in our activities and make their contribution. The promotion of the Geneva Conventions and their Additional Protocols is of great importance, to relieve human suffering during wartime, and most importantly, to protect human dignity. The City Red Cross of Banja Luka implements this program with the help of our trained young activists, who work at the Dissemination Center with the CRC BL. Within this field, the emphasis is on the young people, but lectures are held in the local communities for the adults as well. – International cooperation The City Red Cross of Banja Luka cooperates with other organizations within Krajina region, Republika Srpska Red Cross, Red Cross Society of BiH and International Committee of the Red Cross. Also, during the first century of its existence, the CRC BL has established cooperation with organizations outside our country`s borders through numerous RC activities and projects. We have worked towards establishing contacts with many RC organizations in this region and others as well, mostly through youth exchange programs and other projects. We have cooperated with the Red Cross organizations from Belgrade, Novi Sad, Kragujevac, Subotica, Sombor, Zrenjanin, Osijek, Skopje, Danilovgrad, Podgorica and our members have had the opportunity to visit the Norwegian, Italian and German Red Cross and to cooperate successfully with the RC organizations from Switzerland, Denmark and Sweden.