The City Red Cross of Banja Luka is an entity that is organized into several constituent parts, each serving a particular purpose.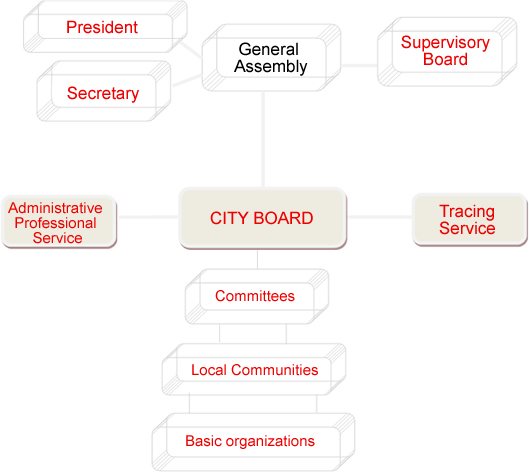 The General Assembly is the highest body whose members are the representatives from the local Red Cross branches. It meets at least once a year, or more than once if necessary.
The General Assembly adopts the annual plan and working plan, annual reports on activities and finances, annual financial plan and the reports submitted by the Supervisory Board. The City Board is composed of 11 members, elected among the most active representatives from the local organizations, schools and other institutions.
The City Board is chaired by the President of the City Red Cross of Banja Luka, who is also the President of the General Assembly. Committees represent the City Board`s auxiliary bodies set up to cover specific fields. Committees create working plans and reports in their respective fields. They also propose initiatives, form working groups and organizing boards, and they are composed of the most distinguished activists, associates, teachers and health workers and members of the RC Youth.
The City Red Cross of Banja Luka has formed 7 committees:
Organization, Development, Staff and Accolades Committee
Junior Section and Youth Committee
Health Committee – Voluntary Blood Donation Committee
Social Humanitarian Committee
Advertising and Publishing Committee
Tracing Service Committee
The Administrative Professional Service
plays a key role in organizing all of the projects.